Diversity Profile
Commitment to Equal Opportunity: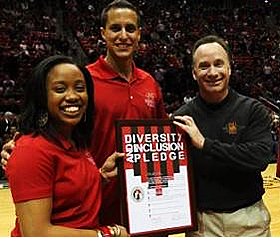 SDSU is a Title IX, equal opportunity employer and does not discriminate against persons on the basis of race, religion, national origin, sexual orientation, gender, gender identity and expression, marital status, age, disability, pregnancy, medical condition, or covered veteran status.
Contact Info:
Depending on your needs or concerns there are a variety of contacts available to assist you througout our campus. Do not hesitate to contact us.
Office of the President

Aaron I. Bruce

Chief Diversity Officer

Office: 619-594-3319

Email: abruce@mail.sdsu.edu



Office of Employee Relations & Compliance

Thom Harpole

Employee Relations Manager

Office:619-594-0607

Email: tharpole@mail.sdsu.edu



Center for Intercultural Relations

Tanis Starck

Director, Cholula Community Center

Office: 619-594-7057

Email: tstarck@mail.sdsu.edu



SDSU Police Department

John L. Browning

Chief of Police

Telephone: 619-594-1991
Commitment to Diversity:
Diversity shall be an essential consideration in all university policies and decisions, and shall be guided by the following statements that shall be published in staff and faculty handbooks, in the university Policy File, in the university General Catalog, the Bulletin of the Graduate Division, the IVC Bulletin, and linked from the Mission and Goals section on the main university Web home page.
San Diego State University is a community diverse in race, ethnicity, language, culture, social class, national origin, religious and political belief, age, ability, gender, gender identity and expression, and sexual orientation. As a university committed to learning in all its forms, San Diego State University recognizes the need to attract and retain a critical mass of diverse persons who will advance its goals and ideals. This fundamental commitment to diversity 1) enriches the institution and provides an atmosphere in which all human potential is valued, 2) promotes learning through interactions among people of different backgrounds and many perspectives, and 3) better enables the university to prepare all members of its community to promote social responsibility, equity, freedom, and productive citizenship in a global society.
Diversity means not only the opportunity for all groups to be represented among faculty, student, staff, and administration but also the support for these persons as they seek the highest achievements. Attitudes, actions, programs, and policies that foster diversity engender the vigorous exchange of ideas, enhance respect and consideration for individuals and groups, strengthen the understanding of our mutual dependence, and form the core of the university. Diversity promotes enriched learning and produces positive educational outcomes for all.
Vigorous efforts to increase the diversity of the faculty, staff, administration, and students shall continue as a high priority, and as access increases, the university will create changes in its environment that enhance the opportunities for the success of all members of the campus community.
The university shall cultivate a campus climate that promotes human dignity, civility, and mutual appreciation for the uniqueness of each member of our community. Because the university's educational goals are founded on the values of intellectual honesty, appreciation for diversity, and mutual respect, it is critical that our academic and co-curricular programs, scholarships, courses, workshops, lectures, and other aspects of campus life reflect diverse perspectives. Freedom from discrimination, harassment, and violence against persons or property is a basic right and is requisite for learning. Freedom of speech shall be protected. By the same token, the campus community shall denounce and confront acts of intolerance, abusive behaviors, and the beliefs and past events that have separated us as a people.
In 2011, SDSU created a Diversity and Inclusion Pledge, an official pledge document that signifies individual commitment to diversity and inclusion at San Diego State.
Diversity Resources:
Numerous student groups, scholarships and departmental programs support students from diverse backgrounds and help them succeed at SDSU. The university's course offerings also reflect the diversity of its student body, faculty and staff. Learn more about these Campus Prorams here.
The LGBTQ resource area at San Diego San Diego University creates, sustains, and strengthens an open, inclusive, safe, and affirming environment for lesbian, gay, bisexual, transgender, intersex, queer, questioning, and ally communities.
Safe Zones works to ensure a campus atmosphere that is supportive, informative and welcoming to all members of the campus community by providing an accepting and pro-active environment for LGBTQIA (lesbian, gay, bisexual, transgender, gender fluid identified, queer, questioning, intersex, ally) students, faculty, staff and administrators and their allies.
Community: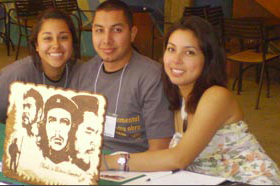 Serving San Diego County's diverse community is a principal mission of San Diego State University. As part of our rich history of community engagement and social justice, there are numerous organizations our students, faculty, staff and alumni contribute to on a regular basis. Service programs on campus and throughout the area help communities in the local region to thrive.